History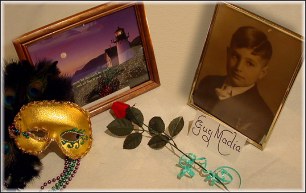 Guy and Vera Madia could never have imagined the impact they and their family would have on the bleeding disorders community. Guy was a Severe Factor 8 hemophiliac in a time when fresh blood and frozen plasma were the normal treatment. Trips to the emergency room were long and grueling. Ice was the treatment for pain. Guy and Vera sustained and managed a good life for their son and two daughters. This is where the story begins.
Diane and Sue have lived in Erie, PA all of their lives. Connection to the bleeding disorders community and information about bleeding disorders was scarce. When they each had a son with hemophilia, Sue and Diane decided to seek out others in the community dealing with this disorder. They sought comfort, support, and education. This proved to be a daunting task in the beginning. But they were relentless in their hunt. Diane's son, Guy, is known at a local hospital as one of their "miracle children". Guy sustained 2 spontaneous intracranial bleeds at an early age. He has had many surgeries due to complications from his Hemophilia. Sue's son, Kyle, is your normal daredevil who needs to push the limits on life. He has continued through the bleeds and pain to try to live a normal life.
Diane and Sue stood hard in their determination to find others with whom they could share their triumphs and hardships.
Education and outreach are our main goals. Through these efforts we have added 8 families to our group this year. The numbers continue to grow and there is much more that we can do.
A crowning moment in the list of HAVEN accomplishments was the development of the Guy Madia Travel Fund. Through this fund we are able to help members of the bleeding disorders community defray the cost of 2 clinic visits per year. Since the hemophilia treatment centers are all around 100 miles away, getting there can sometimes pose a hardship to the families. The Guy Madia Travel Fund is here to help ease the trauma sometimes associated with these visits.
In 1997, Sue and Diane, with the help of a longtime friend, Denise, formed a support group that consisted of 6 families in the Erie community all living with bleeding disorders. The early meetings were held in a conference room on the Peds floor at Hamot Hospital, with the parents sharing and the children playing and bonding with each other. The hospital staff was so patient with the children, well with the children being children. From these original group meetings came a wealth of support and information to all in attendance. The informal meeting style gave all the participants a feeling of comfort and friendship. Each person brought their unique style and experience with them to each meeting. An extended family was born.
During the next few years, regular meetings were held in this small room. As with most families, we met during holidays and special occasions to celebrate our accomplishments and disappointments. Through trial and error, this group learned how to gel together. The bumpy road behind us is a reminder of what all persons with bleeding disorders deal with on a daily basis.
After attending a couple NHF Annual Meetings, in August 1999, our support group incorporated and became HAVEN (Hemophilia and von Willebrand Education Network. By attending these conferences the HAVEN family became armed with the knowledge and resources they needed to go further in the community and search for more members.
HAVEN now supports an extended family consisting of 27 families dealing with bleeding disorders and is still growing and reaching beyond the Erie county line. This includes 30 persons with hemophilia A & B and 20 persons with von Willebrand Disease.
Bowling for dollars, Chinese auctions and selling subs were all a means to raise the money necessary for the job at hand. All the while continuing support group meetings and holiday gatherings.
In 2001:
In keeping with our mission and vision to educate, two educational programs in cooperation with Hamot Hospital were conducted; reaching more than 100 allied health professionals with emphasis on the symptoms, complications, and emergency treatment needs of persons with bleeding disorders.
In February, we sponsored our first annual
Mardi Gras Fundraising Ball
. This was an opportunity to make the people of Erie aware of whom we are and what we hope to achieve as a support network.
September, a young woman from eastern New York was hurt in an ATV accident and life-flighted to Hamot Shock Trauma. HAVEN's network was able to help secure the Humate-P that she needed through one of our members. We also contacted Laureen Temple of Aventis Behring so a reserve of Humate-P could be secured to treat this young woman throughout her surgery and hospital stay. She is now home and has recovered from her injuries.
If you can imagine it, you can achieve it,
if you can dream it, you can become it.
William Arthur Ward